The Big Kahuna Hawaiian Luau on Oahu is a breathtaking experience and is owned and operated by Discover Hawaii Tours.

The owner Leo Malagon states his company is LGBT owned and operated and is taken care of LGBT Visitors.
Discover Hawaii Tours was one of the first companies supporting LGBT Hawaii.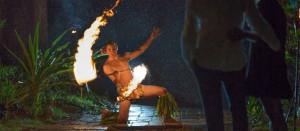 At Discover Hawaii Tours, we take your trip personally. We want you to feel at home in the islands, which is why we invite you to learn more about our company.
Our mission is to provide a personalized tour for the perfect Hawaiian vacation. We've built our company on a set of core values to create a memorable tour experience that lasts a lifetime. We want you to love our tours so much that you'll tell your friends about us!
History
Discover Hawaii Tours was founded in 1995 when our CEO, after being stationed on Oahu with the United States Army, decided to stay in Hawaii after completing his service.
Using his knowledge of the islands, our founder started offering tours from Waikiki to Oahu's most intimate, secluded locations. His goal was to show visitors the true beauty of Hawaii, the beauty of his beloved home.
After acquiring our first multi-passenger van, Discover Hawaii Tours quickly built a reputable following. Over time, we've developed partnerships with local and national vendors, hired the brightest professionals to join our team, and designed unparalled tours on four major Hawaiian islands: Oahu, Maui, Kauai, and the Big Island.
From our humble beginnings, we've earned the trust of thousands of guests, island visitors, and experienced travelers worldwide with our dedication to quality tours in Hawaii. As one of Hawaii's fastest-growing tour operators, Discover Hawaii Tours continues to uphold the core values upon which the company is founded.
Certifications
Our tours speak for themselves, but we don't stop there.
Each day, our guides meet with expert mechanics for a strict inspection of every vehicle. In accordance with Hawaii State Law, our guides must obtain a Commercial Drivers License (CDL) and pass a drivers safety course. GPS-enabled communications to ensure accurate, immediate contact between dispatch and drivers. Discover Hawaii Tours is a Pearl Harbor Certified Tour Operator. We also maintain permits as certified transportation providers for the Honolulu International Airport.
Our Guides
We hand-select the finest candidates to become the face of our company, our tour guides. Following an intense two-week training course, applicants must pass a series of written and verbal tests covering topics on ancient and modern Hawaiian history, Pearl Harbor history, and American history. We place potential applicants through rigorous training on Hawaiian culture, traditions, ecology, geography, and folklore.
Sounds tough, right? It's our way of finding the best tour guides in Hawaii.
At the core, our guides follow three principles:
Exercise expert knowledge of Hawaii's history and culture
Always be friendly and professional.
Embody the spirit of Aloha.