For your ground transportation on Oahu, Charley's Taxi & Limousine has always been LGBT supportive. As a 3rd generation, woman-owned business, Charley's Taxi is Hawaii's premier transportation provider with the most sophisticated communications equipment in the nation.
Whatever your interests, there's so very much to see and do on Oahu and we hope the following tips will kindle your interest in exploring this beautiful island and discovering your own memorable adventures. During my 35-years on Oahu, I've lived all over the island and have traveled many times to our Neighbor Islands. I've met thousands of residents and visitors and am, I think able to write with at least a little expertise. I'll begin with a tip that might help you better understand our local culture and why Hawaii so openly welcomes the LGBT visitor. What is a "Mahu" and why you should know HERE – Scott Foster, Editor.
IMPORTANT SAFETY TIPS
As beautiful and tranquil as many of Hawaii's beaches and shoreline waters may appear to be, the Pacific Ocean can suddenly change from flat to deadly in the blink of an eye and unsuspecting bystanders and swimmers can be dashed on the rocks or swept out to sea. BE SAFE AND SWIM IN AREAS WITH LIFEGUARDS! If you want to snorkel or tank dive and have little or no training, take some lessons before you venture out. And always use the buddy system; never dive alone. 
As with any metropolitan city in the world, use common sense, and don't leave valuables in a rental car. Break-ins and accidents also happen in "paradise." Should a serious unfortunate event occur and you need help, contact the Visitor Aloha Society of Hawai'i HERE
EXPLORING OAHU & HONOLULU
For decades, Hawai`i has been one the wealthiest states per capita in the US and there are some extraordinary old estates that rival anything anywhere — such as the late tobacco heiress Doris Duke's fabled Shangri-La. Now a museum, if you want to tour her magnificent Moorish mansion in person, book your tour WAY ahead 
HERE
. Doris really knew how to live.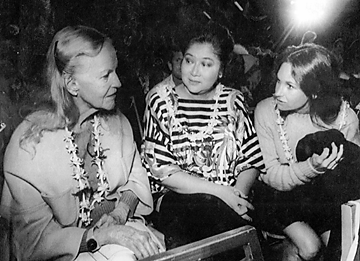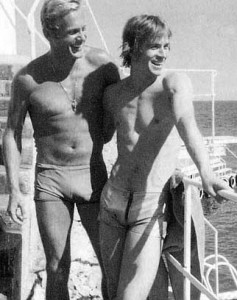 Tab Hunter and ballet star Rudolf Nureyev, above, had a brief fling at Doris Duke's home according to the actor's memoir, "Tab Hunter Confidential."
-###-
If you want to learn about the real Hawaiian history, begin with the 
Iolani Palace tour
, the formal home of Hawaii's last
Queen, Liliuokalani
. Her more modest and actual residence,
Washington Place
 is nearby and open to the public. The Queen's brother,
King David Kalakaua
 built the palace and during the course of a world tour in 1881, the King arranged to meet the inventor of the electric light bulb, Thomas Edison, in New York. Soon Iolani Palace had electricity and a telephone,
both before the Whitehouse!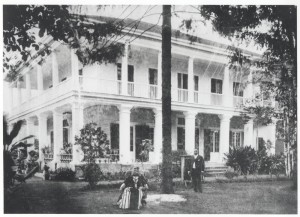 On your way to Washington place, take a stroll through the remarkable Hawai`i State Capitol building.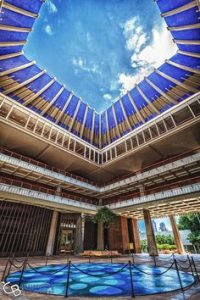 Don't miss the large bronze statue of the Queen on the Makai (towards the ocean) side and a very contemporary statue of Father Damien (now Saint Damien) of Molokai on the Mauka (towards the mountains) side.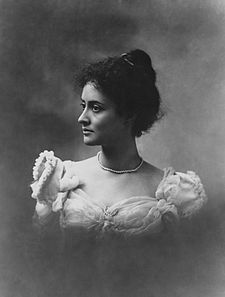 Princess Victoria Kaʻiulani Cleghorn
Crown Princess Victoria Ka`iulani was the Queen's niece and the designated heir to the throne at the time of the overthrow of the peaceful Kingdom of Hawai`i. She was sent to her father's home in Scotland to keep her out of harms way and the letters between these two strong women are a fascinating read.
"The Peacock Princess" was by any measure, one of the most beautiful women in the world and she entertained a virtual who's who of the world at her legendary 10-acre estate in Waikiki; Āinahau. Authors Robert Louis Stevenson (Treasure Island) and Mark Twain enjoyed Princess Ka`iulani's hospitality.
Āinahau is no more, gone with the over-development of old Waikiki but look for her bronze statue near the original site of Āinahau in Waikiki. It's easy to locate near the Sheraton Princess Kaʻiulani Hotel with it's lobby display containing many artifacts belonging to the beloved Princess. She died at the age of 24, shortly after the overthrow of the Hawaiian Kingdom, some say of a "broken heart."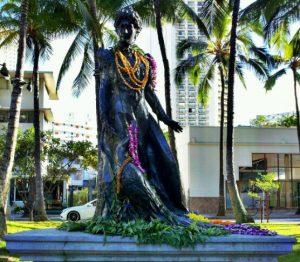 Princess Ka`iulani Statue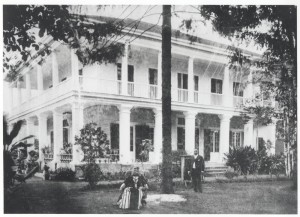 The Queen at Washington Place, her personal residence.
SPORTS AND RECREATION
Golf on your mind? With more golf courses than any other island, golfers of every skill level from around the world head to Oahu. Choose from 40 public and private courses, ranging from casual municipal links to elegant resort courses. Spectacular scenery awaits you no matter which course you choose. And Oahu hosts the PGA TOUR's Sony Open at the Waialae Country Club every January. Check HERE for more information.
Call Charley's Taxi at 808-233-3333 or use the Charley's Taxi App for IOS and Android for safe, affordable ground transportation; a large sedan or a van for your entire entourage and their equipment.
HIKING ON OAHU
Oahu has many safe hiking trails with spectacular views and they range from "easy" to "advanced." Use common sense and be prepared with the right equipment and water. NOTE: Be particularly careful when crossing streams. It may be raining way above your location and a seemingly peaceful stream can turn into a flooding rampage with little warning. travel2change is a Hawaii based nonprofit that connects travelers and local communities around fun activities that give back to the Islands nature & culture. Learn more about hiking safely and about some of the recommended trails on Oahu HERE
OAHU MUSEUMS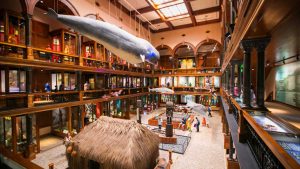 Oahu has many world-class museums. See the complete list HERE. Because of the many nationalities with long histories in the islands, Hawaii's melting pot of cultures and traditions has produced a truly unique amalgam of visual and performing arts.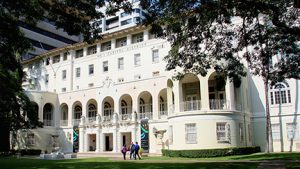 The Hawai'i State Art Museum
The Hawai'i State Art Museum is located on the 2nd floor of the No. 1 Capitol District Building, 250 South Hotel Street, in downtown Honolulu, Hawaii. Admission is always free. The museum cafe, Artizen by MW, is open for breakfast and lunch Monday – Friday. The museum shop features the work of many extraordinary Hawai`i artisans. See the current exhibits HERE. The collection is indeed massive and the exhibits change often.
Hawaii's acclaimed Art in Public Places Program was established in 1967 with the enactment of the Art in State Buildings Law, which designated "one percent" of the construction costs of new public buildings, including schools, for the acquisition of works of art, either by commission or purchase. Hawai'i became the first state in the nation to have such a law that established a separate, reliable source of revenue for the noteworthy program.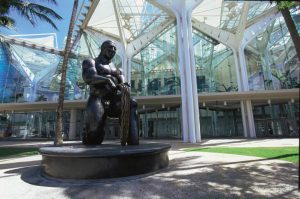 The bronze statue in front of the magnificent Hawai`i Convention Center in Honolulu is only one of the many statues commissioned using Hawaii's Art In Public Places fund.

The internationally known 118-year old Honolulu Symphony Orchestra is the second oldest orchestra in the USA west of the Rocky Mountains. Often featuring many renown guest conductors, the renown JoAnn Falletta serves as the artistic advisor of the Hawaii Symphony Orchestra. Falletta has recorded over 70 albums, featuring works by Brahms, Barber, and Schubert, and women composers such as Fanny Mendelssohn, Clara Schumann, Lili Boulanger and Germaine Tailleferre, in addition to contemporary composers such as John Corigliano. Corigliano is best known by the LGBT community for his first symphony, which was inspired by the AIDS epidemic to honor the friends he lost. Check out the Winter season HERE
RECOMMENDED
Were I coming to visit Oahu, I would stay at the Hilton Waikiki Beach Hotel in the heart of Waikiki. Their rates are competitive and the location ideal. The management and staff have been staunch supporters of LGBT Hawaii and provided ballrooms pro bono for LGBT Hawaii's first two community organizing conferences. As it happens, they have an excellent 24-hour restaurant, a lovely, comfortable space with a garden view. Take a look at it HERE. 
Hilton Waikiki Beach Hotel & Restaurant
2500 Kuhio Avenue
808-922-0811
Waikiki
-###-
Honolulu Tavern
(808) 922-5539
417 Nohonani Street
Waikiki
I wouldn't exactly call this a "Gay bar," but if your looking for an upbeat crowd and a raucous good time, this Yelp review says it all: "By far Waikiki's weirdest bar… and I'm not going to elaborate on that because I want to be welcomed back. I will say that you'll want to be drunk, and prepared for the impossible." The menu is simple and all good; maybe two stars. Facebook page HERE
-###-
Rumfire in the Sheraton Waikiki is definitely upscale and the view from the club is one of the best in Waikiki. While Rumfire enjoys a mixed crowd, the management and hotel are very LGBT friendly and supportive. From Rumfire's Web site:
"Our restaurant and bar brings more than just Waikik's premier all-day, all-night oceanfront hotspot. Enjoy a blend of Pacific Rim and contemporary cuisine complimented by our chic atmosphere. "Firedrill" Happy Hour Daily from 3:00 PM – 5:00 PM with Club Nights on Friday and Saturday from 9:00 PM – 1:30 AM. They often feature live performances by various local "star" musicians and groups.
Rumfire
808-921-4600
2255 Kalakaua Avenue
Waikiki
P.S. For an excellent list of Pacific Rim and contemporary cuisine in Honolulu, see Honolulu Magazine's "Dining" section HERE
-###-
A comfortable old school Gay bar open daily from 12PM–2AM. Opens at 8AM Saturdays and Sundays for football games. I always enjoy the crowd and friendly staff. Check out their Website for current events and drink specials.
(808) 926-4167
408 Lewers Street
Waikiki
-###-
If you're looking for high energy dancing, beautiful near-naked hunks, women of fashion and some of the best drag and female impersonation in the world, Scarlet's is the place to be on a Friday and Saturday. Open from 8PM – 2AM, the shows begin at 10PM.
(808) 200-0910
80 South Pauahi St
Downtown Honolulu
-###-
Hula's Bar and Lei Stand, also widely known Worldwide as "Hula's" is a Legend among the LGBTQ+ community everywhere, but also is known as the epitome of "Aloha" for ALL! Hula's has been serving Hawaii and our international guests for over 44 years! Hula's is located on the 2nd floor of the Waikiki Grand Hotel. Recently renovated, the hotel rates are very competitive.
Hula's (808) 923-0669
134 Kapahulu Ave
Waikiki
-###-
In Between
Karaoke Bar
(808) 926-7060
2155 Lauula St
Waikiki
-###-
Wang Chung's Bar & Restaurant
(808) 201-6369
(Located in Stay Hotel Waikiki)
5PM – 2AM Monday – Saturday.
Open 10AM – 2AM Sunday.
Sunday Brunch 10AM – 1PM
Kitchen hours 6PM – 12AM daily
-###-
Tapa's Lanai Bar & Restaurant
(808) 921-2288
407 Seaside Ave
Waikiki
-###-
It's very easy to meet Hawaii locals and friendly travelers from around the globe at one of the many events occurring daily on Oahu.  Explore HONOLULU MAGAZINE's daily event guide HERE for a current guide to the wide choice of engaging activities on Oahu. Also friend our Facebook page for daily event and news updates.
P.S. If you want to be included in our LGBT friendly list, please contact Scott Foster at aloha@lgbthawaii.com