Lanai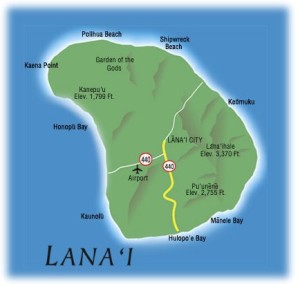 IMPORTANT SAFETY NOTE. As beautiful and tranquil as Hawaii's beaches and rocky cliffs -- very tempting to would-be divers -- may be, STAY A SAFE DISTANCE AWAY FROM ALL BUT OUR DESIGNATED BEACHES WITH SWIMMING AREAS AND A LIFEGUARD TOWER! The Pacific Ocean can suddenly change from flat to deadly in the blink of an eye and many unsuspecting people are routinely swept off rocks and out to sea -- or dashed to bits on the sharp rocks. And then there are Hawaii's sharks. STAY WITHIN THE DESIGNATED SWIMMING AREAS! 
If you get to Maui, try take at least a day trip to Lanai and enjoy the short ferry ride past the island of Molokai.
Dole foods once operated the largest Pineapple plantation in the world on "The Friendly Island" of Lanai. 96% of the island is now owned by Larry Ellison, the co-founder of Oracle Corporation.
Ellison has spent a veritable fortune refurbishing Lanai's three hotels and is in the process of developing a number of luxury homesites. If you plan ahead to stay over, you might get a room at the charming and rustic, Hotel Lanai.  The 10-room property and its restaurant, Lanai City Bar & Grille, reopened in December 2018, after undergoing the first major upgrade since it was built in 1923. Room rates start at $250 and average $325.
If you want world class luxury, Ellison's Four Seasons Resort Lanai, is advertised as "a gateway to an exotic, private paradise where opportunities for adventure and relaxation abound." Check that out via a pictorial Bloomburg article HERE. The Lanai at Koele is expected to soon reopen as "a destination spa."
On with the fun!
Lānaʻi (/ləˈnaɪ/; Hawaiian: [laːˈnɐʔi] or [naːˈnɐʔi]) is the sixth-largest of the Hawaiian Islands and the smallest publicly accessible inhabited island in the chain.[1] It is also known as Pineapple Islandbecause of its past as an island-wide pineapple plantation. The island's only settlement of note is the small town of Lānaʻi City. As of 2012, the island was 98% owned by Larry Ellison (Founder and Chairman of Oracle),[2] with the remaining 2% owned by the state of Hawaii.
Lānaʻi is a roughly comma-shaped island with a width of 18 miles (29 km) in the longest direction. The land area is 140.5 square miles (364 km2), making it the 42nd largest island in the United States.[3] It is separated from the island of Molokaʻi by the Kalohi Channel to the north, and from Maui by theʻAuʻau Channel to the east. The United States Census Bureau defines Lānaʻi as Census Tract 316 ofMaui County. Its total population shrank from 3,193 as of the 2000 census[4] to 3,102 as of 2010.[5]Many of the island's landmarks are accessible only by dirt roads that require a four-wheel drivevehicle.
There is one school, Lanai High and Elementary School, serving the entire island from kindergartenthrough 12th grade. There are no traffic lights on the island.
History
Lānaʻi was under the control of nearby Maui before recorded history. Its first inhabitants may have arrived as late as the 15th century.
The name Lāna`i is of uncertain origin, but the island has historically been called Lānaʻi o Kauluāʻau, which can be rendered in English as "day of the conquest of Kauluāʻau." This epithet refers to the legend of a Mauian prince who was banished to Lānaʻi for some of his wild pranks at his father's court in Lāhainā. The island was reportedly haunted by Akua-ino, ghosts and goblins. Kauluāʻau chased them away and brought peace and order to the island and regained his father's favor as a consequence.
The first people to migrate here, most likely from Maui and Molokaʻi, probably established fishing villages along the coast initially but later branched out into the interior where they raised taro in the fertile volcanic soil. During most of those times, the Moʻi of Maui held dominion over Lānaʻi, but generally left the people of Lānaʻi alone. Life on Lānaʻi remained relatively calm until KingKamehameha I or Kalaniʻōpuʻu-a-Kaiamamao took control, slaughtering people across the island. So many were killed that Captain George Vancouver ignored the island in 1792, because of its apparent lack of villages and population. It is mentioned that Lānaʻi was Kamehameha's favorite fishing spot across Hawaii's main eight islands.[6]
Lānai was first seen by Europeans on February 25, 1779, when Captain Charles Clerke sighted the island from aboard James Cook's HMS Resolution. Clerke had taken command of the ship after Cook was killed at Kealakekua Bay on February 14 and was leaving the islands for the North Pacific.
By the 1870s, Walter M. Gibson had acquired most of the land on the island for ranching. Prior to this he had used it as a Mormon colony. In 1899, his daughter and son-in-law formed Maunalei Sugar Company, headquartered in Keomuku, on the windward (northeast) coast downstream from Maunalei Valley. The company failed in 1901.[7] Many Native Hawaiians continued to live along the less arid windward coast, supporting themselves by ranching and fishing.[8]
In 1922, James Dole, the president of Hawaiian Pineapple Company (later renamed Dole Food Company), bought the island and developed a large portion of it into the world's largest pineapple plantation.
With Hawaii statehood in 1959, Lānaʻi became part of the County of Maui.
In 1985, Lānaʻi passed into the control of David H. Murdock, as a result of his purchase of Castle & Cooke, then owner of Dole.
In June 2012, Larry Ellison, then CEO of Oracle Corporation, purchased Castle & Cooke's 98 percent share of the island. The state owns the remaining 2 percent.[9][10] The sale price was not revealed, but the Maui News previously reported the asking price was between $500 million and $600 million. Ellison reportedly plans to invest as much as another $500 million to add to and improve the island's infrastructure and to create an environmentally friendly agricultural industry.[11][12]
Legends
According to the Hawaiian legends, man-eating spirits occupied the island before that time. For generations, Maui chiefs believed in these man-eating spirits. Differing legends say that either the prophet Lanikāula drove the spirits from the island or the unruly Maui prince Kauluāʻau accomplished that heroic feat. The more popular myth is that the mischievous Kauluāʻau pulled up every breadfruit tree (ʻulu) (Artocarpus altilis) he could find on Maui. Finally his father, Kakaʻalaneo had to banish him to Lānaʻi, expecting him not to survive in that hostile place. However Kauluāʻau outwitted the spirits and drove them from the island. The chief looked across the channel from Maui and saw that his son's fire continued to burn nightly on the shore, and he sent a canoe to Lānaʻi to bring the prince back, redeemed by his courage and cleverness. As a reward, Kakaʻalaneo gave Kauluāʻau control of the island and encouraged emigration from other islands.[13] Kauluāʻau had, in the meantime, pulled up all the breadfruit trees on Lānaʻi, accounting for the historic lack of them on that island.
Geography
The highest point in Lanai is Mount Lanaihale. It is an inactive volcano near the center of the island and to the east of Lanai City. The elevation of Mount Lanaihale is 3,366 ft., or 1026 meters.[14]
Lānaʻi was traditionally administered in 13 political subdivisions (Ahupuaʻa), grouped into two districts (mokuoloko): kona (Leeward) and koolau (Windward). The ahupuaʻa are listed below, in clockwise sequence, and with original area figures in acres, starting in the northwest of the island.[15]
Nr.
Ahupuaʻa
Area
acres
Area
km²
popu-
lation[16]
1
Kaa
19468
78.78
207
2
Paomai
9078
36.74
147
3
Mahana
7973
32.27
1
4
Maunalei
3794
15.35
0
5
Kalulu
6078
24.60
1
6
Kaunolu
7860
31.81
3
7
Palawai
5897
23.86
1
8
Pawili
1930
7.81
0
9
Kaohai
9677
39.16
1
10
Kamao
2751
11.13
2
11
Kealia Aupuni
5897
23.86
2
12
Kealia Kapu
1829
7.40
1
13
Kamoku
8291
33.55
2804
Lānaʻi
90523
366.33
3170
Kamoku hosts the largest share of population, because the bigger part of Lānaʻi City falls into it. Parts of Lanaʻi City stretch to Kaa and Paomai. As of 2010, the remaining ahupuaʻa were virtually uninhabited. According to the census of 2000, Lanaʻi City accounts for 99 percent of the island population (3164 of 3193). As a census-designated place, Lanaʻi City is defined solely for statistical purposes, and not by administrative boundaries.
Tourism
Tourism on Lānaʻi began to be prominent in more recent history as the pineapple and sugarcaneindustries were phased out in the islands.
As of 2011, the two resort hotels on Lānaʻi were managed by Four Seasons Hotels; the Four Seasons Resort Lanai in Manele Bay and the Lodge at Kōʻele. The Hotel Lānaʻi in Lānaʻi City was built in 1923 by James Dole of the Hawaiian Pineapple Company as a lodge to house the executives overseeing the island's pineapple production. It was the island's only hotel until 1990.
Lānaʻi is also home to three golf courses, one at each Four Seasons resort and a third, free course.
The Challenge at Manele borders the ocean and was designed by Jack Nicklaus. Bill Gates was married on the 12th hole tee-box at The Challenge at Manele.
The Experience at Koele is located in the mountains of Lānaʻi and was designed by noted Southern California golf course architect Ted Robinson Sr, with input from Greg Norman.
The Cavendish is a public golf course designed by E.B. Cavendish in 1947. It is a nine-hole course surrounded by Norfolk pines. [17]
Shipwreck Beach on the north shore of the island is so named because of the remains of a wrecked vessel aground a short distance offshore. This is popularly referred to as a WW II Liberty Ship, although it is YOGN 42, one of concrete barges built during the war.[18]
In Lānaʻi City, there are no traffic lights, no shopping malls, and public transportation is supplied by a hotel contractor. For a one-time fee, hotel guests enjoy unlimited rides on small and large buses that go between the hotels and the ferry landing on Manele Bay. Bicycles and off-road vehicles are for rent. Most attractions outside of the hotels and town can be visited only via dirt roads that require an off-road vehicle.
Notable people
Danny Lockin, actor, dancer, born in Lanai in 1943. Best known for his role as Barnaby Tucker in the 1969 movie Hello Dolly!, he played the same role in the Broadway play and when it went on tour across The United States.
On June 21, 2012, Hawaii's governor, Neil Abercrombie, declared that Larry Ellison had signed an agreement to buy most of the island of Lanai from the Castle & Cooke company, owned by David H. Murdock. Ellison owns 98% of Lanai.[19] Ellison has stated that he wants to make Lanai into "the first economically viable, 100 percent green community".[20]