Molokai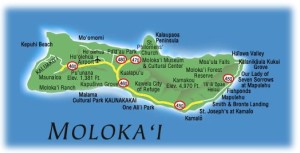 Molokaʻi or Molokai (/ˈmɒləkaɪ/; Hawaiian: [ˈmoloˈkɐʔi]), often called the "Friendly Island", is anisland in the Hawaiian archipelago. It is 38 by 10 miles (61 by 16 km) in size at its extreme length and width with a usable land area of 260 square miles (673.40 km2), making it the fifth largest of the main Hawaiian Islands and the 27th largest island in the United States.[2] It lies east of Oʻahu across the 25-mile (40 km) wide Kaiwi Channel and north of Lānaʻi, separated from it by the Kalohi Channel. The lights of Honolulu are visible at night from the west end of Molokaʻi, while nearby Lānaʻi and Maui are clearly visible from anywhere along the south shore of the island. The shape of Molokai Island can be recalled as that of a shoe or a fish.
Geography
Molokaʻi is built from two distinct shield volcanoes known as East Molokaʻi and the much smaller West Molokaʻi. The highest point is Kamakou[3] on East Molokaʻi, at 4,970 feet (1,510 m). Today, East Molokaʻi volcano, like the Koʻolau Range on Oʻahu, is what remains of the southern half of the original mountain. The northern half suffered a catastrophic collapse about 1.5 million years ago and now lies as a debris field scattered northward across the bottom of the Pacific Ocean.[4] What remains of the volcano on the island include the highest sea cliffs in the world.[5] Views of these sea cliffs are presented in the movie Jurassic Park III. The south shore of Molokaʻi boasts the longest fringing reef in the U.S. and its holdings—nearly 25 miles (40 km) long.[6]
Molokaʻi is part of the state of Hawaiʻi and located in Maui County, except for the Kalaupapa Peninsula, which is separately administered as Kalawao County. Maui County encompasses Maui, Lānaʻi, andKahoʻolawe in addition to Molokaʻi. The largest town on the island is Kaunakakai, which is one of two small ports on the island. Molokai Airport is located on West Molokaʻi. The United States Census Bureau divides the island into three census tracts: Census Tract 317 and Census Tract 318 of Maui County, Hawaii, and Census Tract 319 of Kalawao County, Hawaii. The total 2010 census population of these was 7,345,[7] living on a land area of 260.02 square miles (673.45 km2).[8] Molokaʻi is separated from Oʻahu on the west by the Kaiwi Channel, from Maui on the southeast by the Pailolo Channel, and from Lānaʻi on the south by the Kalohi Channel.
Ecology
Molokaʻi is split into two main geographical areas. The low western half is very dry and the soil is heavily denuded due to grazing by goats and poor land management practices. It lacks significant ground cover and virtually the entire section is covered in non-native kiawe (Prosopis pallida) trees. One of the few natural areas remaining almost intact are the coastal dunes of Moʻomomi, which are part of a Nature Conservancy preserve.
The eastern half of the island is a high plateau rising up to an elevation of 4,900 ft (1,500 m) on Kamakou peak and includes the 2,774 acres (11.23 km2; 4.334 sq mi) Molokai Forest Reserve.[9] The eastern half is covered with lush wet forests that get over 300 in (7,600 mm) of rain per year. The high elevation forests are populated by native ʻōhiʻa lehua (Metrosideros polymorpha) trees and an extremely diverse endemic flora and fauna in the understory. Much of the summit area is protected by the Nature Conservancy's Kamakou and Pelekunu valley preserves. Below 4,000 feet (1,200 m), the vegetation is dominated by exotic flora, including strawberry guava (Psidium littorale), eucalyptus (Eucalyptus spp.), and cypress (Cupressus spp.). Introduced axis deer (Axis axis) and feral pigs (Sus scrofa) roam native forests, destroying native plants, expanding exotic plants through disturbance and distribution of their seeds, and threatening endemic insects. Near the summit of Kamakou is the unique Pepeʻopae bog, where dwarf ʻōhiʻa and other plants cover the soggy ground. .
Molokaʻi is home to a great number of endemic plant and animal species. However, many of its species, including the olomaʻo (Myadestes lanaiensis), kākāwahie (Paroreomyza flammea), and theMolokaʻi ʻōʻō (Moho bishopi) have become extinct. Molokaʻi is home to a wingless fly among many other endemic insects.
History
Molokaʻi was first settled around 650AD by peoples most likely from the Marquesas Islands. Later migrants likely came from Tahiti and other south Pacific islands. Although Captain James Cook sighted Molokaʻi in 1778, the first European sailor to visit the island was Captain George Dixon in 1786.[10] The first significant European influence came in 1832 when a Protestant mission was established at Kaluaʻaha on the East End of the island by Reverend Harvey Hitchcock. In the late 1800s, King Kamehameha V built a vacation home in Kaunakakai and was responsible for the planting of over 1,000 coconut trees in Kapuaiwa Coconut Grove.[11]
Leper Colony
Kalaupapa, located on an isolated peninsula on the northern side of Molokaʻi, was the site of a leper settlement from 1866 to 1969. Thousands of men, women and children living throughout the Hawaiian islands diagnosed with Leprosy (also known as Hansen's Disease) were exiled to the colony by the Hawaiian government and legally declared dead. This public health measure was continued after the Kingdom became a U.S. territory. Patients were not allowed to leave the settlement or have visitors and had to live out their days in this isolated settlement. There are currently no active cases of leprosy on the island, but there are some patients who chose to continue to live in the settlement after its closure.[12][13]
Molokaʻi is distinguished as the longtime residence of Father Damien de Veuster, a Belgian priest of theCongregation of the Sacred Hearts of Jesus and Mary, and Mother Marianne Cope of the Sisters of Saint Francis of Syracuse, New York, both of whom have been canonized Roman Catholic Saints for their treatment and care given during the 19th century to sufferers of leprosy in Kalaupapa.
Economy
Beginning in 1897 much of the western end of the island was purchased by Molokai Ranch to operate a cattle ranch. From 1923 to 1985 thousands of acres of their land was leased to pineapple producers and the pineapple industry thrived on the island. In recent years the pineapple industry has suffered across Hawaii. In 2008 community members successfully opposed the development company Molokai Ranch's attempt to expand through the "Save La'au Point" movement.[14] As a result, on March 24, 2008 what was then the island's largest employer decided to shut all operations including hotels, movie theater, restaurants, and golf course and dismiss 120 workers.[15] Molokaʻi has Hawaiʻi's highest unemployment rate and a third of its residents are on food stamps.[16] As of 2014, the largest industry on the island is seed production for Monsanto and Mycogen Seeds.[16]
Tourism
Although tourism is not as thriving an industry on Molokaʻi as it is on many of the other islands in Hawaii, Molokaʻi has on average about 1,000 visitors on any given day.[17] For years, residents of Molokaʻi have resisted attempts to dramatically increase tourism and as such, accommodations are limited. As of 2014, only one hotel was open on the island, and most tourist accommodations are served by rental condos and houses.
National Geographic Traveler magazine and the National Geographic Center for Sustainable Destinations conduct annual Destination Scorecard surveys, aided by George Washington University. In 2007, a panel of 522 experts in sustainable tourism and destination stewardship reviewed 111 selected human-inhabited islands and archipelagos around the world. Molokaʻi ranked 10th among the 111 locales. The survey cited Molokaʻi's pristine, breathtaking tropical landscape, environmental stewardship, rich and deep Hawaiian traditions (the island's mana), and visitor-friendly culture. The neighbor islands Hawaiʻi, Kauaʻi, Maui and Oʻahu, ranked 50, 61, 81 and 104, respectively.[18]
Molokaʻi is believed to be the birthplace of hula and the annual Molokai Ka Hula Piko festival is held on this island.[19]
Molokaʻi can be reached by plane or by ferry. Planes fly into Molokaʻi daily from other Hawaiian islands including Oahu (Honolulu and Kalaeloa), Maui (Kahului) and Hawaii (Kona) on Mokulele Airlines, Makani Kai Air, Paragon Air and Hawaiian Airlines.[20][21][22] A ferry leaves twice daily between Molokai and Lahaina Harbor, Maui.[23]
Infrastructure
Health care
The island of Molokai is served by Molokai General Hospital, which operates 24 hours a day, 7 days a week.
Education
The island public school system includes 4 elementary schools, one middle school and one high school, one community college.[24] The island also has one private middle school.[25]
Highways
The island can be traversed by a single land highway running east to west along the entire island (highways 450 and 460).
Parks
The island contains many parks and other protect areas including Palaau State Park, Kalaupapa National Historic Park (accessible by guided mule or hiking tour[26]), Kiowea Beach Park, Kakahaia National Wildlife Refuge, Molokai Forest Reserve, Pelekunu Preserve, George Murphy Beach Park, Halawa Beach Park, and Papohaku Beach Park (3 miles of pristine beach).[27]
Notable people
Royalty
Towns and villages
More about Molokai HERE